Zesty Launch Party
Come Join us on November 30th at the Variable Action Offices!
11.14.2012
After 2 years of development we are throwing a public bash for Zesty!
 
Friday, November 30th, 2012
1045 6th Avenue
San Diego, CA 92101
 
Expect drink and good times!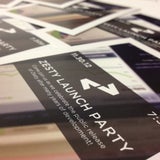 Zesty Party Invitation Close Up
by
Randy Apuzzo
An iPhone photo of a screen blurred out. Gotham Medium, Gotham Book.